I did what was the most recent entry YESTERDAY.
He's since posted two massive entries. ANYWAY.

vera26 asked me to post this here!



Kaji Masaki: 2008-01-10: Shakkin!!

Pic: 1, Cute kid with spoons over her eyes

ttp://blog.watanabepro.co.jp/kajimasaki/archives/2008/01/10_16_post_81.html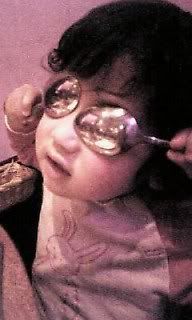 Hello, It's Papa.
This is my illegitimate child.
That's a lie.
This is my friend's child, she's called Ucchan.
Her way of saying "Kankeinai"[1] is "dondake". [2]
What I'm saying is also unimportant. [3]
I getting to it! [4]
However, children, as I thought, are cutee...they're wonderful. [5]
When I see her smiling face, I'm knocked out!
She's more than cute.
It's that sort of feeling that I felt when I was introduced to Ucchan. *laugh*
[1] Roughly, it has nothing to do with (me), I don't care.
[2] A trendy word in 2007, short for dondemonai (ALLEGEDLY), kinda like "no way!" (but, it can also mean "you're nuts", "incredible")
Both are kinda hard for me to get over b/c they can be used in many ways. I could list lots of pseudo-synonyms here.
[3] he uses kankeinai here XD
[4] lol he means the point of the post.
[5] He's really cute here using no at the end for emphasis.
She does have Kaji's cheeks though >_>